Metropolitan Opera Broadcasts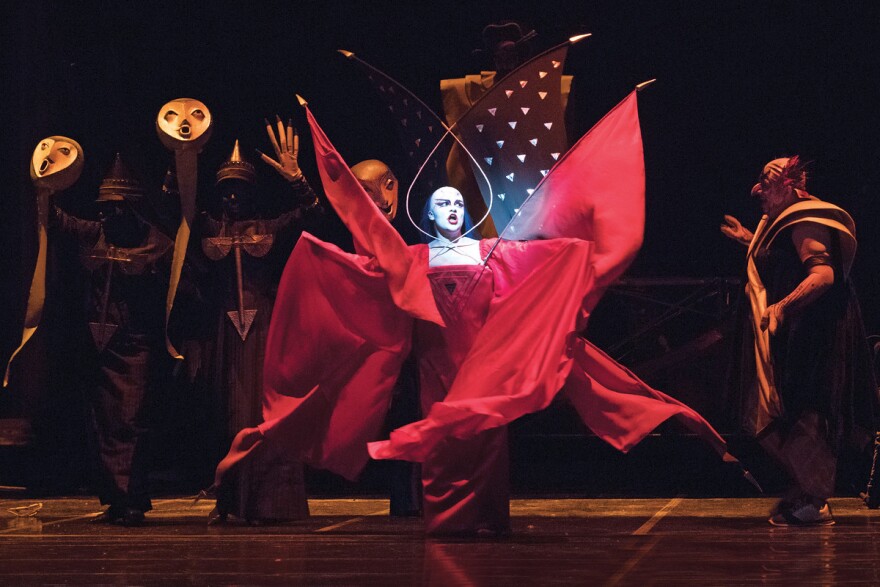 Your vibrant home for grand opera is back! Broadcasts of Metropolitan Opera performances can be enjoyed every Saturday afternoons at 1 p.m. on NEPM 88.5. Enjoy perennial favorites like Puccini's La Bohème and Mozart's The Magic Flute. Experience new works including Fire Shut Up in My Bones by Terence Blanchard. All season long, you'll thrill to the sounds of the most talented singers and greatest composers.
December 4: Aucoin's Eurydice – Network Broadcast- Premiere
Yannick Nézet-Séguin; Erin Morley (Eurydice), Joshua Hopkins (Orpheus), Jakub Józef Orliński (Orpheus's Double), Nathan Berg (Father), Barry Banks (Hades)
December 11: Puccini's Tosca
Yannick Nézet-Séguin; Sondra Radvanovsky (Tosca), Brian Jagde (Cavaradossi), Evgeny Nikitin (Scarpia), Patrick Carfizzi (Sacristan)
December 18: Mozart's The Magic Flute – abridged English-language version
Jane Glover; Matthew Polenzani (Tamino), Hera Hyesang Park (Pamina), Rolando Villazón (Papageno), Morris Robinson (Sarastro), Kathryn Lewek (Queen of the Night), Rodell Rosel (Monostatos), Patrick Carfizzi (Speaker)
December 25: Aida at the Met
Highlights from great Met broadcasts of Verdi's Aida in celebration of the 90th anniversary of Met broadcasts and the 150th anniversary of Aida
January 1, 2022: Massenet's Cinderella – abridged English-language version
Emmanuel Villaume; Isabel Leonard (Cinderella), Emily D'Angelo (Prince Charming), Stephanie Blythe (Madame de la Haltière), Laurent Naouri (Pandolfe), Jessica Pratt (Fairy Godmother)
January 8: Blanchard's Fire Shut Up in my Bones – Network Broadcast Premiere
Performance from October 23, 2021
Yannick Nézet-Séguin; Will Liverman (Charles), Angel Blue (Destiny/Loneliness/Greta), Latonia Moore (Billie)
January 15: Mozart's Le Nozze di Figaro
Yannick Nézet-Séguin; Ryan McKinny (Figaro), Lucy Crowe (Susanna), Golda Schultz (Countess Almaviva), Christian Gerhaher (Count Almaviva), Anna Stéphany (Cherubino), Elizabeth Bishop (Marcellina), Maurizio Muraro (Dr. Bartolo)
January 22: Puccini's La Bohème
Carlo Rizzi; Maria Agresta (Mimì), Charles Castronovo (Rodolfo), Gabriella Reyes (Musetta), Lucas Meachem (Marcello), Peter Kellner (Colline), Alexander Birch Elliott (Schaunard), Donald Maxwell (Benoit/Alcindoro)
January 29: Verdi's Rigoletto
Daniele Rustioni; Quinn Kelsey (Rigoletto), Rosa Feola (Gilda), Piotr Beczała (The Duke of Mantua), Andrea Mastroni (Sparafucile), Varduhi Abrahamyan (Maddalena)
February 5: The Met's First Decade on the Air
The Met's first-ever matinee radio broadcast took place on Christmas Day 1931. Within a decade, the series had already grown into one of the United States' preeminent classical music programs. Enjoy a collection of historic broadcast moments drawn from the 1930s through 1941, showcasing many of the exceptional singers audiences discovered during the Met's first decade on the air, including Rosa Ponselle, Lawrence Tibbett, Kirsten Flagstad, Lauritz Melchior, Zinka Milanov, Jussi Bjoerling, Leonard Warren, Ezio Pinza, Bidú Sayão, and Lily Pons.
February 12: Verdi's Requiem
Performance from September 11, 2021
Yannick Nézet-Séguin; Ailyn Pérez, Michelle DeYoung, Matthew Polenzani, Eric Owens
February 19: Mussorgsky's Boris Godunov
Performance from October 9, 2021
Sebastian Weigle; René Pape (Boris), David Butt Philip (Grigory), Ain Anger (Pimen), Maxim Paster (Shuisky), Aleksey Bogdanov (Shchelkalov), Ryan Speedo Green (Varlaam)
February 26: Celebrating Black History Month: Groundbreaking Artists on the Air
When Philadelphia-born contralto Marian Anderson stepped onto the Met stage on January 7, 1955, she made history, crossing the Met's color barrier with her debut as Ulrica in Verdi's Un Ballo in Maschera. She also became the first artist among generations of extraordinary Black singers who have made invaluable contributions to the company's legacy — stars like Reri Grist, Leontyne Price, George Shirley, Grace Bumbry, Martina Arroyo, Shirley Verrett, Kathleen Battle, Jessye Norman, and Simon Estes.
March 5 Listeners' Choice: Donizetti's La Fille du Régiment
Met radio listeners were invited to vote for the historic broadcast they most wanted to hear for this Listeners' Choice broadcast. This performance from 1973 stars soprano Joan Sutherland in the title role and Luciano Pavarotti in his Met broadcast debut as Tonio, the role that won the tenor the title "King of the high Cs." The cast also features Regina Resnik and Fernando Corena, conducted by Richard Bonynge.