Culture to Do: Sept. 20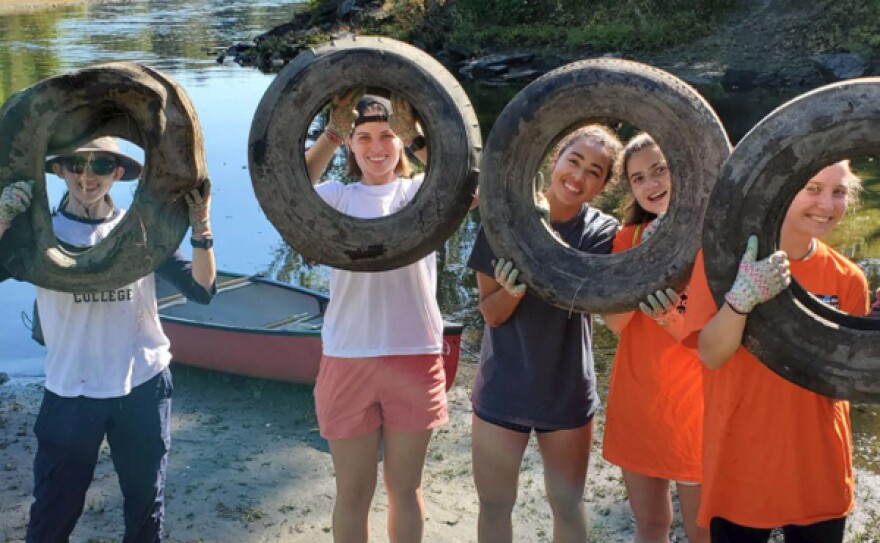 Winterpills
The Drake, Amherst
Thursday, Sept. 21 at 8 p.m.
Winterpills met in 2004 and began making music in the heady Northampton music scene. They all knew each other's songs and talents and stumbled upon their sound: Flora Reed and Philip Price's harmonies and heartrending songwriting, Dennis Crommet's tender shoe-gaze guitar, and Dave Hower's unique drumming.
Amherst Block Party
North Pleasant Street, Amherst
Thursday, Sept. 21 from 5 – 9 p.m.
It's the 10th annual Amherst Block Party, with acrobats, juggling, local food,f ace painting and games. Catch presentations by Shaolin Kung Fu, Starlight Youth Theater, Amherst Regional Dance and more. Music on the Main stage features The Yasu Suzuki Method, Acousticca, and Tap Roots.
Words, Ideas, and Thinkers Festival
Shakespeare & Company, Lenox
Thursday, Sept. 21 – Saturday, Sept. 23
The Authors Guild Foundation returns to the Berkshires this fall for the second annual WIT: Words, Ideas, and Thinkers Festival! WIT strives to expand our understanding of critical issues, celebrate America's literary culture, and amplify new voices and perspectives. This year's theme is "Changing the Narrative. Participants include Jane Smiley, Margaret Verble, Michael Cunningham, and Rita Dove, who was on Tuesday's Fabulous 413.
A Beethoven Cycle II: The Complete Sonatas for Piano and Violin
Sweeney Concert Hall, Smith College
Thursday. Sept. 21 at 7:30 p.m.
Over the course of three Thursday night concerts, pianist Jiayan Sun, Assistant Professor of Music and Associate Chair for Performance Activities at Smith College and violinist Elizabeth will perform all of Beethoven's sonatas for piano and violin. Each concert will also include a world premiere of a work composed by a 5-college music professor reflecting a particular sonata or Beethoven's boundless compositional prowess. First up: Beethoven's Sonatas No. 1, 2, 7 and 8 as well as Fantasy Variations by Salvatore Macchia, Professor of Composition and String Bass at UMass Amherst.
Help Harvest Grapes
Black Birch Vineyard, Hatfield
Friday, Sept. 22, 8:30 a.m.– 12 p.m.
After a peculiar year of freezes and floods, the folks at Black Birch Vineyard have some grapes ready to be harvested! Volunteers will help handpick the Traminette, Marquette, and Gruner Veltliner varieties at their peak. They will provide lunch and a glass of wine (or 2) following the harvest, and you'll also have the opportunity to take home a free bottle of wine for your time!
Connecticut River Conservancy
27th Annual Source to Sea Cleanup
Friday, Sept 22 – Saturday, Sept. 23 (or a date that works best for you)
The Source to Sea Cleanup is the Connecticut River Conservancy's powerful and effective community event spanning the length of our 410-mile watershed in New Hampshire, Vermont, Massachusetts, and Connecticut. You can find a team on the leaderboard page. Look for an event near you, see if the date and time works for you, then register. The Cleanup is billed as a Friday-Saturday event, but you will find other dates too!
The 164th Belchertown Fair and Parade
2 Park Street, Belchertown
Friday, Sept. 22 – Sunday, Sept. 24
Like many of our local harvest season fairs, the Belchertown Fair started as an agricultural gathering. True to its roots, it offers many aspects of agriculture from the large animals in the pulling area, the 4H tents with small animals and hundreds of exhibits in the Exhibit Hall. There's a big midway with rides, plus plenty of food, and music. The Belchertown High School Marching Band kicks off the parade on Saturday morning at 10 a.m.
LAVA Film Festival
LAVA Center, Greenfield
Friday, Sept. 21 and Saturday, Sept. 22
Free filmmakers reception Friday from 5 – 7 p.m.
This is a showcase of Massachusetts filmmaking talent, from students to professionals and everyone in between. The festival kicks off with a free reception on Friday from 5–7 p.m. where you can meet filmmakers whose work will be screening over the weekend. On Saturday, from 3 – 4:30 p.m., you can attend a local filmmaker panel discussion, hosted by Wally Marzano-Lesnevich and featuring festival filmmakers Oliver Brubaker, Althea Keaton, Dylan Rhys Roy, Yonah Sadeh, and Dien Vo.
Poor Monroe – Record Release Party
Gateway City Arts, Holyoke
Friday, Sept. 22 at 6:30 p.m.
In addition to receiving two New England Music Award nominations, Poor Monroe has enjoyed a tremendous break-out year, with performances including the Green River Festival, Podunk Bluegrass Festival, Ossippee Valley Music Festival, The Back Porch Festival, Basin Bluegrass Festival, and Thomas Point Beach Bluegrass Special. That's no small feat, considering the band was formed in the spring of 2021! Performing original and traditional material with a deep sense of honoring the legacy of bluegrass music, this group shows how a love of music and good sense of humor can transcend trying times.
Joe Louis Walker + Misty Blues
Bombyx
Friday, Sept. 22 at 7 p.m.
Joe Louis Walker ranks with B.B. King, Buddy Guy, and Robert Cray in the pantheon of legendary electric bluesmen. A Blues Hall of Fame inductee and six-time Blues Music Award winner, NPR described Walker as "a legendary boundary-pushing icon of modern blues." He hits Bombyx for a Friday night blues party with special guest Gina Coleman's Misty Blues Band from the Berkshires who slayed at the Millpond Live festival last summer.
Words and Music: An evening with singer-songwriter and author Stephen Kellogg
Bowker Auditorium, UMass
Friday, Sept. 22 at 7:30 p.m.
Singer-songwriter Stephen Kellogg has been wowing audiences since his days as a UMass student in the late '90s. He's kept up his connection to the university and the region over the ensuing decades as he's built a national following with his roots-rock songwriting, friendly, engaging stage presence, and extensive touring. For this event, Stephen will take the stage with his guitar in one hand and a copy of his book, Objects in the Mirror: Thoughts on a Perfect Life from an Imperfect Person, in the other.
FreshGrass Festival
MASS MoCA, North Adams
Friday, Sept. 22 – Sunday, Sept. 23
Head to MASS MoCA this weekend for wonderland of traditional and cutting-edge roots music. FreshGrass features roots music traditionalists and innovators on four stages and platforms throughout the museum's 16-acre campus. Festival programming also includes FreshScores, a silent film with original live music; FreshGrass commissions and world premieres; instrument and industry workshops; pop-up performances and retail; and local Berkshire food and spirits vendors. Performers include Dropkick Murphys, Rhiannon Giddens, The Devil Makes Three, Aoife O'Donovan, and many, many more.
5th Annual Northeast Fine Arts Exhibition of Traditional Realism
Workshop13, Ware
Saturday, Sept. 23 – ¬Sunday, Oct 8
Fridays from 4 to 7 p.m., Saturdays and Sundays from 1 to 4 p.m.
The 5th annual juried Northeast Fine Arts Exhibition opens on Saturday, September 23rd with a reception from 1 – 4 p.m. This annual exhibition of traditional realism is held in the Grand Hall gallery of Workshop13, a non-profit cultural arts and learning center located at in Ware. This show features approximately 100 pieces of artwork oil painting, watercolor, sculpture, drawing/ graphics, acrylic, pastel, and mixed media.
Rachmaninoff at 150 with Asiya Korepanova, piano
The Frederick Historical Piano Collection, Ashburnham
Sunday, Sept. 24 at 3 p.m.
Asiya Korepanova is the only pianist in the world currently performing the complete Rachmaninoff solo piano works within the composer's 150th-anniversary year of 2023. Her enormous repertoire includes over sixty piano concertos, ranging from early Baroque works to the music of living composers. She will play Rachmaninoff's complete Etudes-Tableaux, Op. 33 and Op.39 on the Frederick Collection's historic 1907 Blüthner piano from Leipzig.
The Wallflowers
The Academy of Music
Tuesday, Sept. 26 at 8 p.m.
For the past 30 years, the Jakob Dylan-led act has stood as one of rock's most dynamic and purposeful bands – a unit dedicated to and continually honing a sound that meshes timeless songwriting and storytelling with a hard-hitting and decidedly modern musical attack. That signature style has been present through the decades, baked into the grooves of smash hits like 1996's Bringing Down the Horse as well as more recent and exploratory fare like 2012's Glad All Over. It's been nine long years since we've heard from the group with whom Jakob Dylan first made his mark. The Wallflowers are silent no more.