Hampshire College Alumni Group Pushes Back Against Plan For School's Future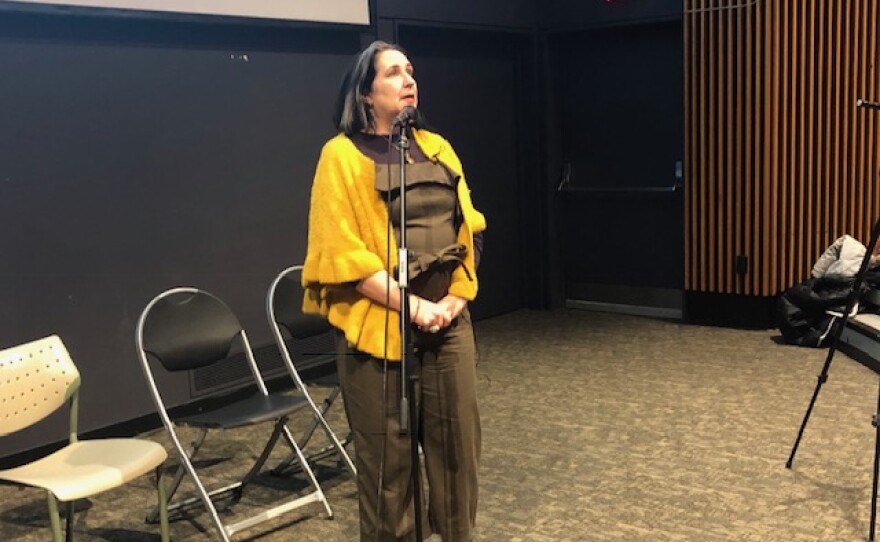 Susanne Perkins of Save Hampshire makes a presentation at the school on February 15, 2019.
Alden Bourne / NEPR
Members of the Hampshire College Community listen to a presentation by alumna Suzanne Perkins on February 15, 2019.
Alden Bourne / NEPR
Hampshire College alumni led a session on campus Friday arguing that plans for staff cuts and a drastically reduced incoming class should not go forward.
A group started by alumni called Save Hampshire took about 60 Hampshire community members —including parents, students and staff — through a presentation with a simple point: Hampshire is not in as dire straits as President Miriam Nelson has claimed, and the college should rethink where it goes from here.
Hampshire alumna Suzanne Perkins flew in from Michigan to make the case.
"We're protesting the potential layoffs," she said. "We see those as really problematic for the future of Hampshire. We're very concerned that once layoffs happen there'll be no way to bring Hampshire back."
The college has said it's considering a strategic partnership with another institution.
Save Hampshire said it was reaching out to the state Attorney General's Office to see if it will investigate the decision not to admit a regular class in the fall.