Democratic Contenders In 9th Hampden District Clarify What Sets Them Apart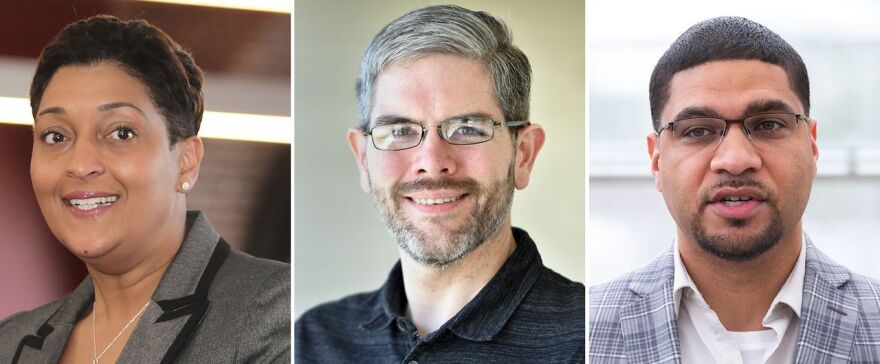 Three candidates are running to replace a retiring Massachusetts state representative in the 9th Hampden District, which includes part of Springfield and a small part of Chicopee.
Representative Jose Tosado announced in January that he would not seek another term.
Those running for his seat are Springfield School Committee Member Denise Hurst, Springfield City Councilor Orlando Ramos and Sean Mullan, who's an office manager at a Springfield church.
https://www.youtube.com/watch?v=b1UdwKi4YmQ
During a recent candidate forum on Focus Springfield, the contenders tried to make clear what sets them apart. The three were asked what their number one policy priority would be.
Ramos went first.
"My number one priority is to have a responsible and smart response, recovery and resiliency plan for COVID-19," Ramos said.
Hurst said while it would be fantastic to be able to only focus on COVID-19, she'd put her attention on existing racist policies and legislation.
"We have to remember," Hurst said, "that once we are on the other side of this, that there are still systemic and institutional barriers that we have to think about, that have truly laid the foundations of the devastating impacts that this virus has had."
Sean Mullan said that with people losing jobs because of COVID-19, tenant protections would be at the top of his list.
"I think it's really important that we pass legislation that protects both tenants and homeowners from eviction and foreclosure," Mullan said, "and that also helps address problems with housing affordability."
The forum was hosted by three groups focused on local agriculture and accessibility to healthy food, and by the Urban League. All three candidates said they would like to see more community gardens and fewer food deserts.
They wrapped up by highlighting their experience.
Ramos reminded viewers they were electing a lawmaker.
"I'm the only candidate in this race that has ever written a law," Ramos said. "And I'm ready to go to Boston, and fight, and work on day one."
While Hurst and Mullan haven't written laws, they want it known that they've lobbied for specific causes in Boston.
"I have helped to enact amazing policies that have truly helped to change the lives of those here in western Massachusetts," Hurst said, "through the Student Opportunity Act, through the gender equity bill, to the Pregnant Workers Fairness Act."
"I've traveled many times to Beacon Hill to advocate for different issues," Mullan said, "ranging from $15 an hour, which is now law, along with paid family medical leave, to tenant protections and automatic voter registration."
There is no Republican running, so whoever wins the primary next Tuesday will likely be the winner in November.