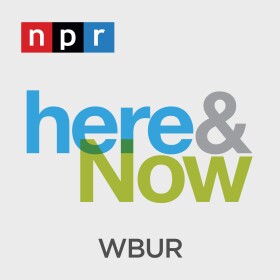 NEPM News Network weekdays 12 noon - 2 p.m.
Here & Now brings you the news that breaks after Morning Edition, and before All Things Considered. Produced at WBUR in Boston, and hosted by Robin Young and Jeremy Hobson, Here & Now combines the best in news journalism with intelligent, broad-ranging conversations on public policy and foreign affairs, science and technology, as well as features on arts and culture.
The law signed by Republican Gov. Spencer Cox on Thursday requires those under 18 years old to get parental consent before signing up for sites like Instagram or TikTok.

The votes are coming right as President Biden authorized a retaliatory strike in Syria after one U.S. contractor died and another five were wounded in a suspected Iran-backed drone strike.

The strikes were retaliation after a drone linked to Iran killed an American contractor and injured 5 American service members.

The mass, referred to as the Great Atlantic Sargassum Belt, is expected to make landfall across coastlines this summer, threatening potential tourists and beachgoers with its sulfur-like smell.

Naseer Nouri, who the Washington Post called their "fixer extraordinaire" in Baghdad in the early years of the war. From 2003-2008, Nouri helped Post journalists report from some of the most dangerous places in Iraq. He now lives in the U.S.

The strange comet-like object's movement through space was so odd that scientists have struggled to explain it.

The competition has already seen a string of upsets and this night may be no exception.

In 1986, 16-year-olds Jacob Wideman and Eric Kane were rooming together on a summer camp trip to the Grand Canyon when Jacob fatally — and inexplicably — stabbed Eric.

The same nonprofit organization has run the organ transplant system for 37 years.

Chew defended the app from allegations that its Chinese parent company is giving away American users' data.