Compulsive Gambling Expected To Spike As MGM Springfield Opens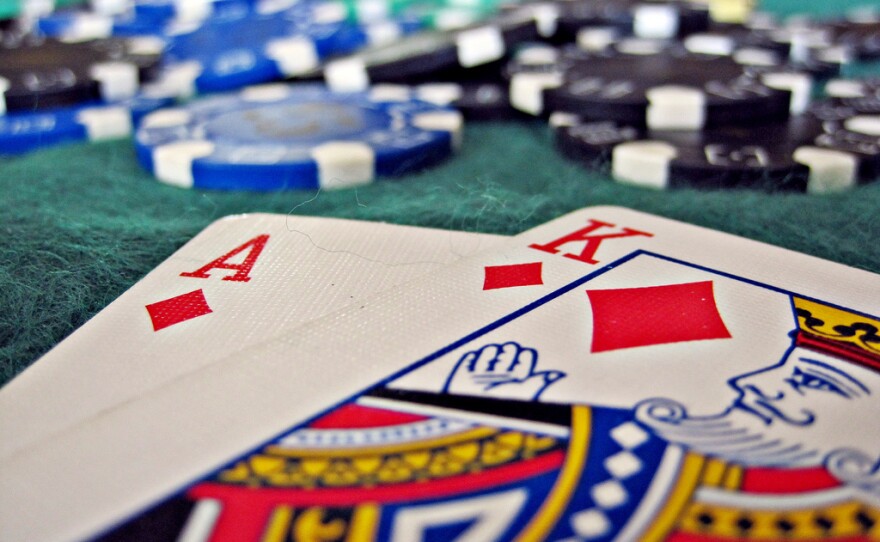 Images Money / Creative Commons / flickr.com/photos/59937401@N07
Ralf Steinberger / Creative Commons / flickr.com/photos/ralf-steinberger/
A sign at MGM Springfield's casino.
Don Treeger / The Republican / masslive.com
Rachel Volberg of UMass presents at the March 2018 Massachusetts Conference on Gambling Problems.
Massachusetts Gaming Commission / State of Massachusetts
Rachel Volberg of UMass.
Antonio Caban / State House News Service
Marlene Warner, Executive Director of the Massachusetts Council on Compulsive Gambling.
Massachusetts Council on Compulsive Gambling
Lisa Brecher of the Gandara Center.
NEPR
Jessica Collins, Executive Director of the Public Health Institute of Western Massachusetts.
Public Health Institute of Western Massachusetts
Helen Coulton-Harris, Commissioner of the Department of Health and Human Services for the City of Springfield, Massachusetts.
The Republican / masslive.com/photos
Mark Vander Linden of the Massachusetts Gaming Commisison presents in March 2018 at the Massachusetts Conference on Gambling Problems.
Massachusetts Gaming Commission / State of Massachusetts
Massachusetts is offering a program called GameSense to help prevent compulsive gambling. But where can people go when that program doesn't work?
About two percent of all state residents say they have an addiction to gambling, according to UMass researcher Rachel Volberg, who studies gambling trends for the state.
Volberg said that when she polled the problem gamblers, a quarter of them said they'd like to get help. But few had actually sought it out.
"Internationally, we know that problem gambling is associated with a great deal of stigma and shame, and people much, much prefer to try and manage it by themselves," Volberg said.
That creates some dilemmas in the treatment world, starting with how to recognize who needs help.
Marlene Warner runs the Massachusetts Council on Compulsive Gambling.
"We consider it the hidden, or invisible, addiction," she said. "You don't come home with track marks in your arms. You might come home a little bloodshot, because you've been at the casino several days, but it's just not revealing itself in the same way that another addiction would."
Visible or not, gambling addiction is expected to spike after MGM opens, based on past research.
With that in mind, the Gandara Center in Springfield is preparing to do more screenings among its mental health patients.
Spokesperson Lisa Brecher said their mostly low-income population is at high risk for gambling addiction, since many are unemployed and coping with poverty and violence.
"They turn to a way to alleviate that," Brecher said. "The same way some folks use substances, we're afraid the same population will start to misuse this recreational activity."
Brecher said the center expects more patients to develop gambling addiction, but not necessarily tell their providers about it -- which is partly why the clinic has trained many of its existing counselors in gambling treatment, but not hired anyone new.
"Based on supply and demand, we're pretty confident we have enough people in place right now," Brecher said. "What we are talking about and preparing for, if we do start to see a lot of these things identified during the intake process, is: will we have to increase capacity?"
The tricky part, health leaders say, is making sure supply keeps up with the demand.
Warner said the Massachusetts Council on Compulsive Gambling -- under contract with the state -- has ramped up its trainings, mostly among clinicians who already treat substance abuse and mental illness.
"We also get a lot of requests from community-based organizations, certainly from senior centers," she said.
According to the council, about 150 practitioners across Massachusetts are certified to treat gambling addiction, including both private practice and employees of larger mental-health organizations.
"I'd say that there's a lot more groups that still need to be trained, and a lot more groups that need some information," Warner said.
The Massachusetts Department of Public Health is charged with making sure there are enough gambling addiction services and that every licensed outpatient clinic has at least one trained counselor. But the department would not provide an interview to explain how they are enforcing the requirements, or assessing what's available.
Jessica Colllins directs the Public Health Institute of Western Massachusetts.
"I think people in the public health community are concerned," she said.
Collins's group released a casino "health impact" report in 2013. It recommended more community resources to address gambling addiction.
"You need more funding to fund staff who can then intervene with individuals," Collins said. "This is like a one-on-one basis, which is very expensive."
One future pot of money, an estimated $15 to $20 million a year, is the public health trust fund, which comes from a percentage of casino revenue.
Collins wants the money to help more than just the gamblers -- also families and neighborhoods affected by gambling. She said she believes the state will eventually invest in community-based treatment.
"But you've got a casino opening August 24," she said. "And I'm saying no resources have been rolled out to local communities, at this point, to help agencies potentially set up, and then deal with, an increase of addictive gambling."
The Springfield health department has not yet built up much infrastructure for problem gambling.
But Commissioner Helen Caulton-Harris said she is concerned for the city.
"We have heard the stories about the casinos in Detroit, and other places, that really have sucked the life out of communities, and then sort of moved on, and left a trail of poverty," she said.
Caulton-Harris said her office has recently secured funding for a position that will oversee gambling addiction services.
That coordinator will not be on the job when the casino opens, and Caulton-Harris said it will take about a year to gauge the extent of problem gambling in Springfield. For now, she said they plan to refer people to their primary care doctors.
However, the Massachusetts Medical Society, which represents doctors, said it has not, as an organization, broached gambling problems in light of the casino opening.
"I don't believe everything is in place that needs to be in place in terms of the casino, and its impact on the city. This is new for us," Caulton-Harris said.
Her office has been talking to Mark Vander Linden, who runs the responsible gambling division for the Massachusetts Gaming Commission.
Vander Linden said he doesn't know much about the treatment options in the community. He's been mostly focused on the prevention program, called GameSense, which operates inside the casino.
And while Springfield is certainly not the first city to host a new casino, Vander Linden says policymakers have not learned much about "best practices."
"The research on what is the impact when you open up a casino in a specific area is weak, at best," he said.
That's where UMass researcher Volberg said Massachusetts is likely to be a leader.
Part of her job is to track problem gambling, over time, after the casino opens -- along with how the state is handling it.
Here's part one of this story. Take a look at all of NEPR's casino and gambling coverage.
Disclosure: MGM has purchased underwriting from New England Public Radio publicizing the company's non-gambling activities. The NEPR newsroom operates independently of the station's development department, and editorial decisions are made without regard to any funding relationships.