Former Music Venue Workers Say Labor Laws Routinely Violated
The Northampton Box Office is Iron Horse Entertainment Group's ticketing headquarters. It's just off the main intersection in downtown Northampton, Massachusetts.
Ellery Berenger / NEPM
The door to the upstairs office at Iron Horse Entertainment Group's Northampton Box Office.
Ellery Berenger / NEPR
The Calvin Theatre at 19 King Street in Northampton, Massachusetts.
Ellery Berenger / NEPM
The entryway to the Iron Horse Music Hall at 20 Center Street in Northampton, Massachusetts.
Ellery Berenger / NEPM
Eric Suher's dance club, The Basement, at 21 Center Street in Northampton, Massachusetts.
Ellery Berenger / NEPR
The Pearl Street Nightclub at 10 Pearl Street in Northampton, Massachusetts.
Ellery Berenger / NEPR
Former Iron Horse Entertainment Group kitchen and bar worker, Mod Behrens, at his home.
Ellery Berenger / NEPR
Lindsey Musielak, a former employee at the Iron Horse Entertainment Group box office, stands in front of her alma mater, Smith College, in Northampton, Massachusetts.
Ellery Berenger / NEPR
Rose Bookbinder, co-director of the Pioneer Valley Workers Center, holds pamphlets explaining workers rights in Massachusetts.
Ellery Berenger / NEPR
One night in April 2017, posters reading, "It came from the Suher," mysteriously appeared in many downtown Northampton, Massachusetts, locations. A few remain across from The Roost, a cafe on Market Street.
Ellery Berenger / NEPR
Former employees of prominent western Massachusetts music venues are coming forward with claims of wage theft and intimidation.
Since buying Northampton's Iron Horse Music Hall in 1995, Eric Suher has built a live music enterprise in the region. His five venues are known collectively as the Iron Horse Entertainment Group, or IHEG.
Some of the big names who have crossed IHEG stages have publicly criticized conditions at Suher's venues. Public officials have also fought with Suher over liquor licenses he kept for years on vacant properties.
But new complaints from former employees suggest a pattern of labor law violations.
Hours deducted from paychecks
Lindsey Musielak was on the job hunt after graduating from Smith College a couple years ago. Her major was American Studies, her focus: music and pop culture. Right out of the gate, Musielak found a job in her field: a position at the Northampton Box Office, IHEG's ticketing headquarters.
"Because IHEG is so prevalent and pervasive in the area," Musielak said, "I figured that that was kind of the only game in town in order to gain work in the music industry."
Musielak said she liked certain aspects of her job. The office was beautiful. She could walk to work. Occasionally she would see a band she liked.
But after a couple months, Musielak said, she noticed hours missing from her paychecks. Meal breaks she said she never took were being deducted from her pay.
Musielak's former coworker, Callie Sieh, said she noticed the same pattern.
"I would get my paycheck and my pay stub back, and there would be half an hour gone from every day," Sieh said. "Someone — whoever was doing payroll — had to manually go through and deduct the 30 minutes themselves."
Sieh said she no longer has those records.
But Musielak does — and so does another former IHEG employee. NEPR compared their pay stubs and time sheets, and saw the missing hours.
When they were hired, Musielak and Sieh said they were not clear about their rights. Most days there were only one or two people working in the box office, so they figured they couldn't take breaks. They didn't know that in Massachusetts, workers like them are entitled to a 30-minute unpaid meal break for every six hours worked. If an employee doesn't take their break, they must be paid for it.
Workers rights posters missing
Employers must post labor law posters that explain all of this and more. You've probably seen them. State law requires they be placed somewhere prominent in a workplace, like a break room.
Ten former employees NEPR spoke to — all but two in recorded interviews — said these posters were nowhere to be found in any IHEG venue, or the box office.
Take Cole Payne, for example. As a former security worker, he said he was "intimately familiar" with all IHEG locations.
"There was no workers rights posters at any of the venues, and no discussion about it really, either," said Payne, who said he stopped working at IHEG in the fall of 2017.
The former employees who agreed to be interviewed all left IHEG at different times – some as far back as three years ago, others as recently as a couple months ago. We tried to reach current employees for comment, but they didn't want to talk.
Former box office manager Stevie Pipes said she came to IHEG knowing her rights. She called prior bosses of hers "iffy" on following the law. In lieu of posters, Pipes said she printed out her rights from the state's website, and hid them where her coworkers, Musielak and Sieh, would know to find them.
"I made sure that all of them know," Pipes said, "'If you guys are here working by yourself and you want to take your break, you lock the door, and you can go take your break.'"
Pipes said the mere absence of the posters made her inclined to hide them, fearing retaliation if the posters were on display.
Sieh said she still felt uneasy about exercising her rights.
"Even after Stevie told me I was allowed to take breaks, I still was afraid to," Sieh said. "I was afraid to use the bathroom because I was worried that [IHEG owner] Eric [Suher] would come by when I happened to be out, and like, fire me without saying anything, or dock my pay."
NEPR reached out to Suher multiple times for comment, but never heard back.
'The chain of command is Eric'
Employee unease about Suher went beyond merely not getting along with the boss. Nine former IHEG workers – including kitchen, front-of-house and security staff – said they witnessed or received verbal abuse from Suher.
"[Suher] would just insult you and berate you," said one former employee, who asked to remain anonymous. "A lot of times, it wasn't just abusive; it was confusing. You couldn't follow what he was even asking, because he was just yelling at you to yell at you."
It makes it difficult to voice workplace concerns when the complaint department is also your boss.
"There is no H.R. department," Musielak said. "There is no direct chain of authority, or chain of command."
"The chain of command is Eric," Sieh said.
Chronically late paychecks
Employees say Suher was also, essentially, the payroll department; he distributed everyone's checks himself. Nine former employees said their checks would frequently arrive days or even weeks behind schedule.
Graham Hurlburt was the former head of security at IHEG.
"I think the hardest part about working for Eric was the paychecks," he said. "Sometimes you'd wait, you know, six weeks for a paycheck."
Late paychecks are actually illegal. According to Massachusetts state law, "Hourly workers must be paid every week or every other week."
Payne said that when he was hired to do security at IHEG, it was his first major job out of high school. Like other young employees NEPR spoke to, Payne said that he "assumed the best of employers," that is, until his paychecks started coming in late.
Payne said Suher would often deflect requests for payment by claiming he had left the checks elsewhere.
"When you actually got your hands on them, you could see their issue date was often that day or the day prior," Payne said. "So you'd know that for a couple of weeks he'd been lying and saying that, oh they're in his car, and, oh, he just forgot, but in reality, he hadn't issued them."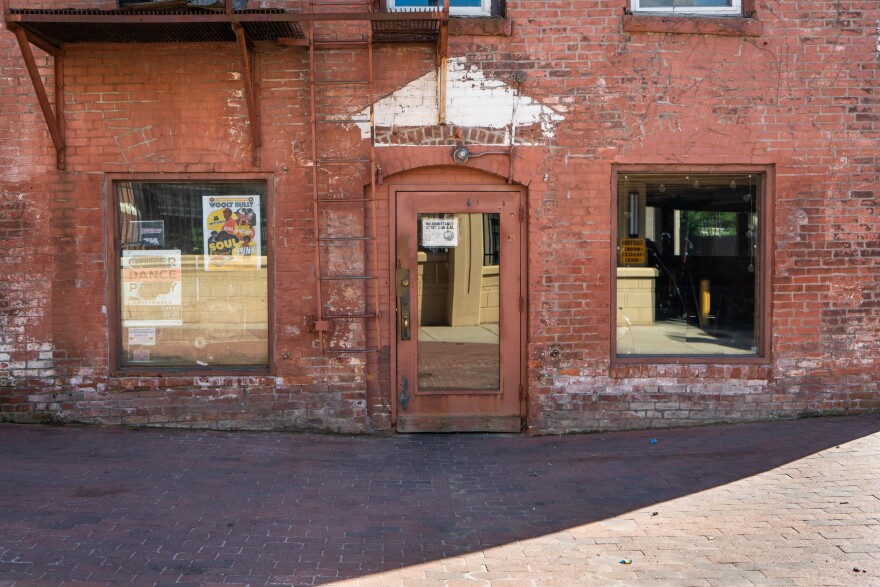 Creative overtime loophole or just illegal?
Three former security workers NEPR spoke to said they worked shifts at every IHEG venue, but each one had its own payroll.
Hurlburt said he didn't hold on to his old pay stubs, but all together, he'd sometimes work way over 40 hours a week.
"Say I work six hours here, and eight hours there," Hurlburt said. "Those are all separate paychecks. So I would never get overtime."
The overtime rate in Massachusetts is time and a half for all hours worked beyond 40 in a week.
Hurlburt, among other employees, said he thought that by divvying up an employee's hours among his different venues, Suher was exploiting a creative legal loophole. That doesn't appear to be so.
The state attorney general's office wouldn't speak specifically about IHEG, but said "an employer cannot set up separate payrolls for multiple branches of a business in order to avoid paying overtime."
A push for sick time
Despite the obstacles, three employees said they ended up going to Suher directly, with their rights in hand. Whether it was about breaks, late pay or overtime, the employees who threatened legal action said they got what they requested going forward.
Former IHEG kitchen and bar worker Mod Behrens said he had to use that approach to collect paid sick leave.
"During the entire time I worked there," Behrens said, "no one had ever taken sick leave. If you were sick, you lost that day's pay."
When Behrens discovered information about paid sick leave online, he said he wished he had found it sooner. He and his co-workers had worked while sick many times, he said, because they often couldn't afford to take days off.
"I found out through doing this research," Behrens said, "that if you have more than 11 employees, you have to offer paid sick leave: an hour for every 30 hours worked. So I asked my manager about this and he said, 'No, we're too small of a business.'"
The manager relented, however, when Behrens pointed out the law.
Besides Behrens, none of the IHEG employees NEPR spoke to said they knew about paid sick leave — information that can be found on a worker's rights poster.
"I could have had that time, and so many other people could have, too," Behrens said. "And not a single person working in that company knew. And I still am sure most of them don't, because that information's not posted."
No formal complaints
NEPR checked with the Better Business Bureau, OSHA and the Attorney General's Fair Labor Division — all organizations which enforce labor laws around wages, safety and freedom from exploitation. We found no complaints submitted by IHEG employees.
It seems that anyone from IHEG seeking legal help went instead to the Pioneer Valley Workers Center, a nonprofit based in Northampton. According to the group's website, their mission is to "build power among low-wage and immigrant workers in Western Massachusetts."
Co-director Rose Bookbinder said many IHEG employees who have come to the Workers Center are also musicians. And given how well-known IHEG is in the area, she said, employees were afraid that if they caused a stir, they might risk future opportunities in the local music scene.
"Many of the individuals have initially wanted to pursue some sort of wage claim against IHEG or Eric Suher," she said, "but ultimately have wound up being scared of being blacklisted by him and all of his different venues."
Other IHEG employees shared their own reasons for not coming forward until now.
Casey Oparowski said she started working at IHEG while she was still in high school.
"I didn't think I could really do anything about it," she said, "or that it was different from anyone else's workplace."
Others were afraid of retaliation, like Hurlburt.
"I feel bad for not coming forward with complaints sooner," he said. "I feel bad for not fighting more for my staff and getting them what they deserve. I just feel like — I didn't want to lose my job."
Pipes, who is one of the few who said they confronted Suher directly, said she was initially hesitant to add her voice to this story.
"[Suher] has so much money and influence, and he owns so many things," she said. "[But] I don't think you should be able to make your employees feel like that for so long, and treat people like that for so long, and just continue to get away with it."
NEPR reached out to Suher for comment repeatedly. He promised to respond, but we have not heard back from him or any IHEG representative.