Baker Says He's Watching Massachusetts COVID-19 Metrics As Neighboring States Move To Reopen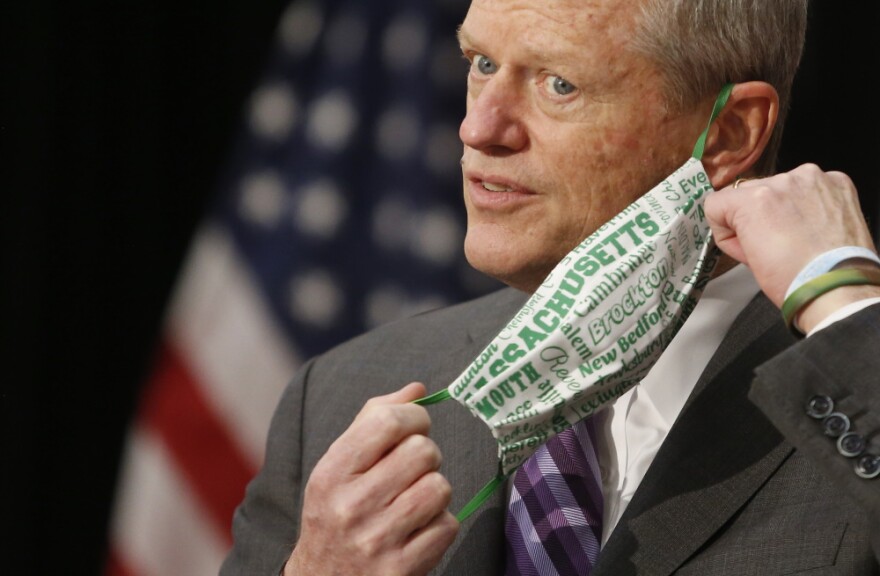 As the COVID-19 metrics continue to move in the right direction in Massachusetts, Gov. Charlie Baker says he remains hopeful the state can achieve a full reopening by August 1.
It's been two weeks now since the Baker administration opened up the vaccine to everyone age 16 and older. And neighboring states are reopening on a more accelerated timeline.
Matt Murphy of the State House News Service joins us to talk about the week ahead, and what metrics Baker will be paying close attention to.
Matt Murphy, State House News Service: We heard last week from some in the business community concerned what [other states reopening] will mean for Massachusetts — states like Rhode Island and Connecticut are moving to fully lift their restrictions by Memorial Day, in some cases.
But the Massachusetts governor says he will continue to watch things like daily case rates and the positive test rate as he encourages people to continue to get tested, even as the focus has been on vaccines, as well as hospitalizations, to make sure the state has the capacity to handle those still getting ill.
That's the frustration of some, particularly lawmakers, that the governor has not outlined precise metrics or precise data points that he is looking at that would trigger perhaps a faster reopening.
But he has said that if things are looking good — if the vaccine progress accelerates more quickly than maybe the state is expecting — that the date of August 1 for a full reopening, and the lifting of all restrictions, could be accelerated, and pushed up earlier into the summer.
Carrie Healy, NEPM: There appears to be quite a lot more available appointments than before. What are you hearing about any issues tied to supply and demand for the vaccine?
With Pfizer and Moderna, and the Johnson & Johnson vaccine back in use, there are a number of appointments around. The federal government is also continuing to push more and more vaccines through the federal pharmacy program, which has made it easier for some to find appointments.
Over 900 public sites are available already in Massachusetts, and the state has fully vaccinated more than 2.5 million people.
The governor is expected to appear Monday with Dr. Paul Biddinger, the Massachusetts General Hospital Center for Disaster Medicine director, who has advised the vaccine effort. They are going to talk about the next phase of vaccination and how they're going to target harder-to-reach communities and populations.
Governor Baker made a pitch last week to increase funding for vocational training. Officials say an expansion of voc-tech schools will especially help Latino and Black residents whose jobs were disproportionately impacted by the pandemic. But House lawmakers slashed funding for Baker's budget for the program. Where does this issue stand?
The governor has identified a vocational technical high schools as places where you can really train people for careers in the trades or in new professions for people mid-career. So he has tried to put money into these schools to educate not just the high school students that attend them, but having really three phases of the school day for the students, for traditional high school students who may go to a voc-tech program after school to get additional training in the trade or vocation. And then in the evening, for adults looking to retrain or change careers.
They funded this program at $4 million to start. The governor tried in his budget to quadruple that funding. The House last week, during their budget debate, opted to level-fund this program, keeping it at $4 million while they pushed additional money into other workforce training programs.
As this budget now moves to the Senate, though, this is something to watch. There were efforts in the House to mimic the governor's proposal and boost that funding up to about $16 million.
I think we'll probably see a similar effort in the Senate, at least an amendment or two, to increase funding in this area. And we'll see how Senate lawmakers feel. Just differing approaches here to how the governor and the legislature want to go about boosting this workforce and training across the state, and what programs to use.